Al-Sadd hold main training session to prepare for Umm Salal
2 min read
The Al-Sadd football first team held its main training session from 6:15 PM on Tuesday evening at the club's training pitch, as part of the ongoing preparations for the upcoming QSL Round 23 game against Umm Salal. The game is set to kick off at 7:05 PM on Thursday at the Suhaim bin Hamad Stadium (Qatar SC).
Al-Sadd look to stay on top
The Wolves go into Thursday's match sitting on top of the league table with 53 points and won their last match against Al-Khor 4-0. As for the opponents Umm Salal, they are in sixth place with 29 points. In the match between the two teams during the first phase, Al-Sadd ended up winning 8-0.
Ferreira selects his lineup
During the training session, the coaching staff worked on choosing the suitable lineup for the match. Head coach Jesualdo Ferreira focused on offensive training and the movement of the players from deep and on the wings, in addition to defensive positioning.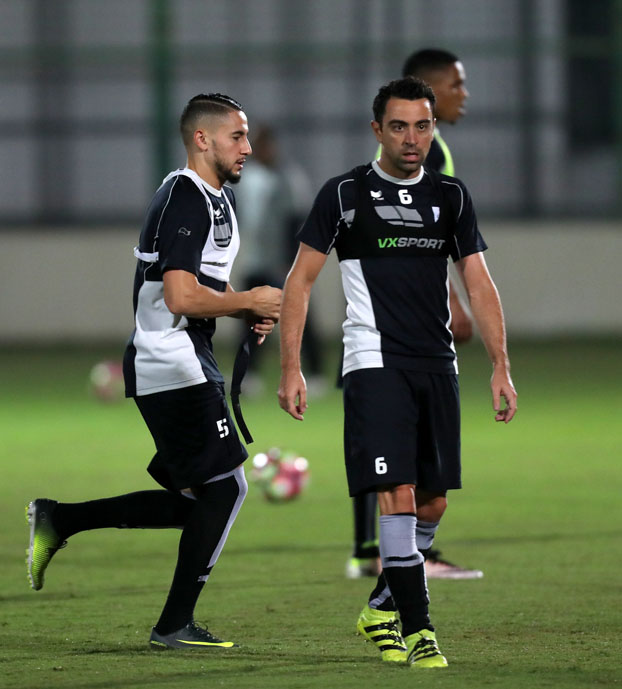 High spirits
The players were in high spirits as they trained on Tuesday evening with everyone looking to be fully prepared for the upcoming match.
Hamroun shines
The training session also saw a great showing from Jugurtha Hamroun who returned after missing the last game against Al-Khor due to muscle pain.
Pedro ruled out due to suspension
Al-Sadd defender Pedro Miguel will miss the game against Umm Salal after he was suspended following his fourth yellow card, which he was shown in the game against Al-Khor.
Xavi chosen as Player of the Month
Xavi Hernandez was chosen as Al-Sadd's Player of the Month for February following a fan vote on the club's official Instagram page.
Ferreira and Ahmed Sayyar to attend presser
The pre-match press conference will be held from 12:15 PM on Wednesday afternoon at the club's conference hall and Al-Sadd will be represented by head coach Jesualdo Ferreira and player Ahmed Bader Sayyar.