Al-Sadd holds main training session to prepare for Al-Gharafa
2 min read
The Al-Sadd football first team held their main training session on Thursday from 5:30 PM at the main pitch of the Jassim bin Hamad Stadium, as part of the preparations for the upcoming game against Al-Gharafa in Round 5 of the QSL. The game is set to kick off at 5:20 PM at the Thani bin Jassim Stadium on Saturday, the 29th of October.
Al-Sadd go into the match sitting on top of the league standings with 10 points from four games, following wins over Al-Kharaitiyat, Al-Ahli and Muaither and then a draw with Lekhwiya. As for Al-Gharafa, they are in 10th place with 4 points and they drew their last match 1-1 with Al-Shahaniya.
The coaching staff used Thursday's main session to choose the options for the starting lineup for the game by implementing tactical moves and strategies.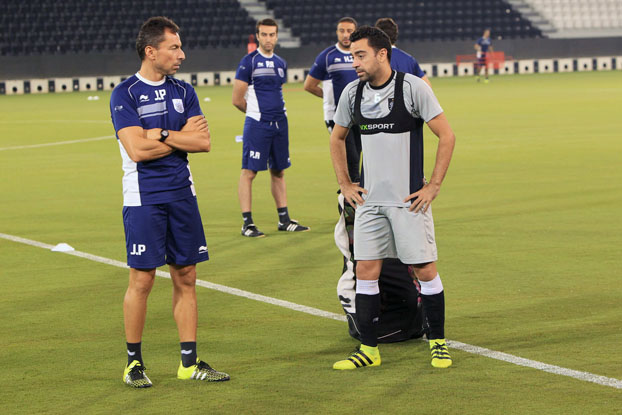 Khalfan to miss the match
Khalfan Ibrahim will continue to be absent from the matchday squad as he is still recovering from the knee injury he suffered in training ahead of the game against Muaither in Round 4.
Knee ligament injury rules out Al-Jalabi
A medical test has found that Abdulaziz Al-Jalabi had suffered a knee ligament injury during the first few minutes of the match between Al Sadd and Al Gharafa in the QatarGas League. He is scheduled to undergo a period of treatment and rehabilitation that will last for 3-4 weeks.
Final session and squad announcement
The Al-Sadd team will hold their final training session from 5:30 PM on Friday, after which the matchday squad for the game against Al-Gharafa will be announced.