Xavi writes: It is our responsibility to help through football
5 min read
(Originally published on www.sc.qa)
Football is an incredible way to help unite people and societies. It can bridge cultures and religions and be a mechanism for uniting people from different walks of life. As footballers we have a great responsibility. A lot of people in society look up to us, and they see our behavior as an example they can follow.
If I could have had Johan Cruyff, Bernd Schuster or Pep Guardiola teaching me things about football as a youngster, it would have been indescribable. As a youngster attending La Masia youth academy in Barcelona, I aspired to be like them and I looked up to them. And so it gave me a great deal of happiness last week when I found myself as a guest in a very welcome but unfamiliar community, trying to inspire young people.
I was invited to Baqa'a refugee camp in Jordan as an ambassador for Generation Amazing, the flagship CSR programme of the Supreme Committee for Delivery & Legacy, the team delivering the 2022 FIFA World Cup in Qatar.
The aim of my visit was to meet with the young Generation Ambassadors who live there and try to pass on my experience in football, while also witnessing the difference they are making to their own communities. I spent a lot of time with some really fantastic boys and girls who are already embarking on a pathway of helping others through the simple power of football.
Millions of football-obsessed fans live in the Middle East, North Africa and Turkey. At Baqa'a camp, and other locations around the region, the Generation Amazing programme offers football for development workshops to inspire social change. But what does that really mean for me?
It means believing in the power of sport as a catalyst for positive change and using it as an opportunity to advance society for the better. I have always believed in solidarity amongst different people, regardless of their backgrounds or personal situations. I was brought up this way: to know that when I can help, I should.
In life, if you have the chance to help someone you have to take it. I think we always have to help those in need, regardless of nationality, culture or religion. When I first arrived at the camp, for example, I could see some of the girls were a little nervous to play alongside me. But it wasn't long before they were actively participating in the project at hand. It's important to understand that these girls love the game and that playing football is also great for their health and development. Generation Amazing can, and is, slowly helping change the way people think. Football, it must be remembered, belongs to all of us in equal measure.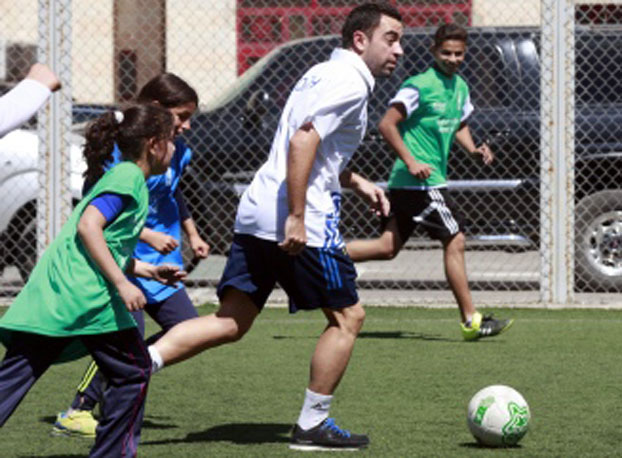 During my time in Al Baqa'a I saw and listened to kids who showed great enthusiasm, resilience and determination to seek to better their life, and the lives of others, through the game. Perhaps one of the most important aspects of the project is that I have already found myself learning from these kids.
It cannot be lost on anyone who watches the television, reads a newspaper or gets information through their social media feeds that there are so many issues facing children and refugees around the world today. But I am in a very privileged position where I may be able to use the name and reputation that I earned through a lifetime in football to be able to highlight some of the issues facing so many.
I am also a parent. And being a parent is sometimes overwhelming. The responsibility is enormous. I understand this now more than ever. As a father of a young child it is hard to watch how so many children across the world, from diverse backgrounds, ethnicities and cultures, can be so badly affected by conflict regardless of the politics involved. What is important, however, is to try to understand a little more about the difficulties many of these children and refugees face daily.
I count it as an honour to be involved in this type of work and hope that I can use my name to add a little hope and optimism to the lives of these children and refugees. If I have managed to make the youngsters I met half as happy as they have made me then I will have been successful. The work of Generation Amazing is truly important and I was privileged to witness it in action.
It is true that a simple thing like a football can change a child's life. It can also change a community's life. It can change the life of a group of people, even a nation or a region. Generation Amazing wants to make small changes, one step at a time. Whether this is helping build pitch infrastructure in Jordan, Nepal, Syria or Pakistan, where we have a number of projects, or football for skills training with school children and workers in Qatar, or simply inspiring people and communities to take a step forward.
Football is perhaps the greatest sporting tool for change across society today and one that I know my adopted home of Qatar is constantly pushing to implement through programmes such as this.
If I have learned anything throughout my career it is that football allows you the opportunity to be part of something greater than yourself: to be part of a team, to participate and be successful with the people around you who are important to you.
As I was leaving Al Baqa'a I received many words of gratitude for visiting and many youngsters told me I was their hero. It certainly made me smile. If I have been able to inspire any of these kids I met in Baqa'a, as Cruyff, Schuster and Guardiola inspired me all those years ago, then the privilege is all mine. It is not me who is the hero in these stories. It is the children who are dealing with hardship, many of them on a daily basis, around the world. They are the true heroes, and it is our responsibility to help.